Keynote Speaker – Tim Gorichanaz
Tim Gorichanaz is an associate teaching professor at Drexel University, College of Computing & Informatics in Philadelphia, US. His areas of expertise are in human-computer interaction, philosophy of information, digital ethics, information experience, information behavior and human-centered design. In 2018, he has attained his PhD in Information studies from Drexel University. He has published a book on information experience titled "Information experience in theory and design" and has researched the information experience of runners during ultramarathons.
More about Tim's work can be found on his personal pages.
Address title: A Compass for What Matters: Virtue Ethics and Information Literacy
Abstract: As we foray further into the digital information age, we seem to be searching for moral guidance. In recent years, discussions of information ethics have proliferated along with emerging fields of ethics regarding specific technologies (e.g., AI ethics); and increasingly, this work in the ethics of information and technology has implications for information literacy. Of the three main traditions in ethics (deontology, consequentialism and virtue ethics), deontology and consequentialism have been the focus of the majority of work. But I suggest that of these three, virtue ethics is uniquely well suited as a moral guide in the digital age, given the pace of sociotechnical change and the complexity of society. That is because virtue ethics focuses on the traits, situations and actions of moral agents, rather than on rules (as in deontology) or outcomes (consequentialism). In this talk, I provide an overview of virtue ethics as relevant to information literacy, I discuss existing work that is already compatible with virtue ethics, and I suggest a future vision of a virtue-oriented information literacy.
Keynote speaker – Alison Hicks
Alison Hicks is Assistant Professor and Programme Director, Library and Information Studies at University College, London (UCL). Her research primarily focuses on how information literacy practices help people to cope with uncertainty, including risk and transition, within academic, health, everyday, and work contexts. She is additionally interested in qualitative, visual, and participatory information literacy research methods. Alison has published widely, including in the Journal of Documentation, Journal of Library and Information Science, and Social Science and Medicine, and her first co-edited monograph, Information Literacy through Theory, is being published by Facet in late 2023. Alison has been the Editor-in-Chief of the Journal of Information Literacy since 2020.
Address title: Sociocultural approaches to information literacy: Space races, wish-cycling and squabbling siblings
Abstract: Sociocultural approaches to information literacy, which recognise that information literacy is shaped through dialogue and debate, have not always been welcomed within our field, being variously critiqued as 'fashionable,' of no interest to practitioners or as irrelevant given the availability of other conceptual work. Yet, it could be argued that these ideas have irrevocably changed the direction of information literacy research and practice, not least by challenging ingrained assumptions about ways of knowing- and how we teach for these ideas. This keynote presentation critically analyses the legacy of information literacy's sociocultural turn by reflecting on how these ideas have been developed since the early 2000s, how they have been integrated into information literacy discourse and narratives and their contributions to information literacy research and practice. In further examining gaps and silences, or the places where sociocultural ideas are sidelined, this presentation also reflects on future challenges for both research and practice, including the risk of stagnation, the lure of aspiration and the responsibilities of progress. In effect, where have sociocultural approaches to information literacy been, where might they be going and why does it matter to our field?
Invited speaker – Jenna Hartel
Jenna Hartel is an associate professor at University of Toronto, Faculty of Information in Ontario, Canada. As an avid researcher and thinker her work is widely recognized in the field of library and information sciences. Her work, interests and energy are perhaps best understood in her own words:
"I am a theorist, methodologist, historian, and passionate educator of Library and Information Science (LIS). My work is motivated by the question: What is the nature of information in the pleasures of life? I am seeking an answer through creative, concatenated, exploratory research into information phenomena within the pleasurable and profound realms of serious leisure and hobbies. I am engaged in an imaginative, energetic, and committed form of intervention in the field of LIS. I believe a different character of LIS is possible, one that moves beyond pragmatic concerns with information resources and technologies to consider positive and upbeat information phenomena across the entire human experience. To that end, my ideas are expressed and packaged in non-standard formats that are playful, modern, and accessible to all. I hope to be a catalyst, endeavoring to inspire and encourage the field of LIS to explore new areas, import new methods, break out of traditional boxes, and entertain new possibilities." – Jenna Hartel
Address title: An Archipelago of Library and Information Science
Abstract: Professor Jenna Hartel loves to survey the landscape of ideas in Library and Information Science. To that end, over her career, she has employed metaphors, performance, and multimedia to take students, educators, scholars, and practitioners to new places of understanding in our field. Jenna will bring this same adventurous spirit to her invited talk at the 2023 European Conference on Information Literacy. This time, she guides the audience across a recently surfaced and linked island chain of ideas that extend from the Library and Information Science mainland. The trip explores information experience, embodiment, contemplative practice, a multispecies perspective, and one additional (surprise!) destination. In an accessible manner, each conceptual islet will be defined simply, placed into historical context, and then related to research, pedagogy, and practice in Library and Information Science. Professor Hartel's goal is to give all attendees an intriguing set of potentially uncharted notions to enliven conference conversations. There will be many souvenirs to take home! An avid video-maker and creator of the YouTube channel, INFIDEOS, the presentation will include a few original multimedia snippets on these topics.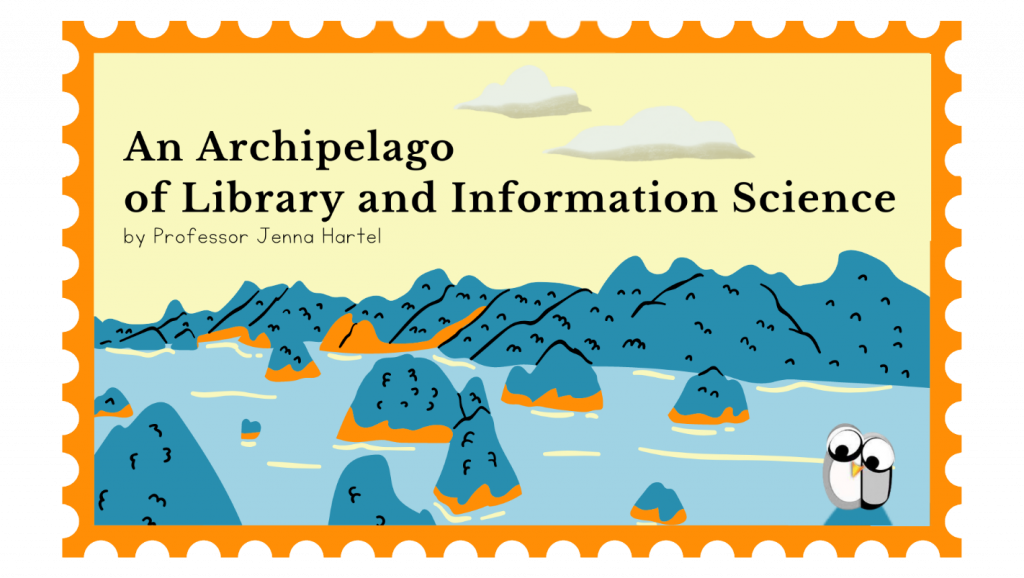 Invited panel – Sabina Cisek and Monika Krakowska
Sabina Cisek is Senior Lecturer and Vice-Director for Educational Affairs at the Institute of Information Studies, Faculty of Management and Social Communication, Jagiellonian University in Kraków, Poland. Her research focuses on human information behaviour and literacy, qualitative methods in information science, philosophy and theory of information studies, and professional information services. She is also a founding member of Polish Association of Information Professionals. Since 2013 she works for ECIL – European Conference on Information Literacy as a Program Committee member and a reviewer. In years 2002-2012 Sabina served as a vice-president of Polish Society for Scientific and Technical Information. She authored, co-authored and edited over 70 scholarly works (articles, conference papers and books), including Philosophical aspects of information science (2002), Qualitative research in the field of Information Literacy in the second decade of the XXI century (2014) and encyclopaedia entries on information, information behaviour, and information users (2017, in Polish).
Monika Krakowska is Assistant Professor at the Institute of Information Studies, Faculty of Management and Social Communication, Jagiellonian University in Kraków. Her research interests include multidisciplinary approaches to and analyses of human information behaviour, as well as methods of experiencing information through individual and collective information activities in context. She investigates the cognitive, social, and emotional elements of information behaviour and diverse information environments, as well as the many ways in which information culture is created in different situations, with considerable interest. She has published texts in Polish and foreign collective works and in scientific journals such as Information Research, Journal of Education for Library and Information Science, Education for Information, The Electronic Library. She is the author of the book Human information behaviour in the context of the epistemic information bubble phenomenon: a proposal for a new concept (2022, in Polish). For her first book New Forms of Social Communication in the European Educational Space (2008, in Polish), she received the SBP Adam Łysakowski Scientific Award in the category of best works of a practical and implementation nature.
Sabina and Monika are both members of ISKO – International Society for Knowledge Organization. They both took part in the international project EMPATIC – Empowering Autonomous Learning Through Information Competencies, which was concerned with diagnosing the state of information literacy development in the European Union, as well as developing and implementing various programmes and activities in the field of information literacy education, in the four education sectors covered by the EU Lifelong Learning Programme programmes in school, vocational, and adult education. Recently, they have attempted to identify the study potential in their idea of individual information spaces (with significant social and affective potential), analysing it using qualitative, visual, and participative methodologies. They aim to identify and diagnose not just information behaviour, but also individual components of information culture, information competencies, and the numerous information contexts that impact the building of human experience and knowledge.
Address title: Interdisciplinary and methodological aspects of diagnosing the experience of information and the formation of information culture
Abstract: Our intention will be to present a proposal for defining and concretising both the processes of experiencing information and the formation of information culture in interdisciplinary and methodological terms. The aim of our deliberations will be to point out the potential of a multifaceted and diverse understanding, investigation and conceptual construction of human information activities constituting the experience of information in the contemporary world. The panel will also attempt to present research methodologies, selected and most frequently undertaken ways of investigating these evolutionarily, biologically, psychologically and cognitively and socially determined activities constituting responses to information (including stimuli), always occurring in context. It will also be necessary to consider the concept and phenomenon of the human experience of information through the prism of generated information competences, which simultaneously affect the processes of experiencing and practising information. On the basis of an analysis and critique of the literature on the subject, as well as a conceptual analysis, the key interdisciplinary subject and methodological conditions of experiencing information and information culture and the application of interdisciplinary research methods in this area of information science will be characterised. We will try to show that the analysed research field represents a great potential for exploring the specificity, the diversity of human information behaviour and information culture, as well as the context, including the experience of information in the virtual world, in social media as well as in everyday life.